1. Seven Little Bunnies by Julie Stiegemeyer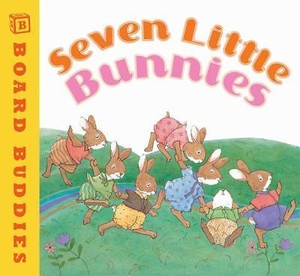 I thought this was going to be a "jumping on the bed" book but I was completely wrong and was
so glad
I was because I'm so sick of that rhyme! We all
loved
this book.
2. Daddy Hugs by Nanci Tafuri
We checked out some books for Father's Day, and this was one of them. There are quite a few Father's Day books on this list because, well, my girls are obsessed with My Man. We loved this one because of the art and the girls loved seeing all of the different animals.
3. If My Dad Were An Animal by Jedda Robaard
I loved the art in this one. It was all so peaceful and cute. The girls also loved all of the animals in this one, and afterwards we talked about what animal we thought My Man was. We decided a fox, until he came home and reminded me that he has told me multiple times that if he were an animal it'd be a bear. I think both would fit him well for different reasons!
4. Bedtime Without Arthur by Jessica Meserve
This was just a really cute book, and the girls loved it, and so did I.
5. Mr. Squirrel and the Moon by Sebastian Meschenmoser
I honestly was pretty suprised the girls liked this book, just because I didn't like the art that much. But, they did and the story was good! Maybe your kids will like it too :)
6. I love My Daddy by Sebastian Braun
I feel like the cover picture is misleading for how great the art is. At least I liked it! And the girls, like I said before, love anything to do with dad.This book had a great portrayal of how kids see their dads.
7. Bears and a Birthday by Shirley Parenteau
Apparently this is one of many "Bears and __________" books. Which is great news! We loved this one. It has cute cute bears and talks about cake. Ummmm. Yes, please.
8. Bye,Bye, Butterflies! by Andrew Larsen
I wasn't fond of the art style in this book (can you tell the pictures are big time for me? ha!), but I had just been talking to my oldest about how caterpillars become butterflies, and this describes that process pretty well and makes it exciting for the kids. Both girls loved this one.
9. Cricket Song by Anne Hunter
This has such a peaceful and beautiful tone to it. The girls love that, and so do I. Read this one!
10. Listen to Our World by Bill Martin Jr. and Michael Sampson
I loved the creativity of the art in this book, and like the one above it was very peaceful and beautiful, along with a beautiful message!